In 405 B.C., Mesrop Mashtots created the Armenian alphabet and together with his co-workers and pupils laid the foundations of Armenian-language literature. The first sentence translated into Armenian was: "To know wisdom and instruction, to perceive the words of understanding" (The Book of Proverbs 1,2).
After the invention of the Armenian alphabet, an extensive active period of enlightenment began, which encompassed all Armenia. The basic books of Christian doctrine, the Old and New Testaments and the works of ancient philosophers were translated into Armenian; original treatises on philosophy and history were written, religious poetry flourished.
Some of the ancient Greek originals of Armenian translations no longer exist; scholars are familiar with these works only through their Armenian translations.
For centuries foreign invaders trampled on Armenian soil, turning its villages and cities into ruins and destroying the cultural achievements of the Armenian people.
The years following 1915, the year of the genocide of Armenians over the entire territory of Turkey (historical Armenia), marked a disastrous period for Armenian culture as a whole. Innocent, unarmed people were deported from their age-old native land and our cultural centers—monasteries and churches, schools and libraries—were consigned to flames. During those years of bloodshed, tens of thousands of unique manuscripts were completely destroyed. Yet no one could ever break the will of the nation that has repeatedly proven its right to existence.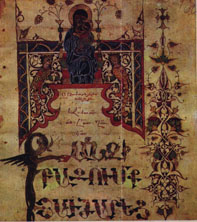 The art of translation flourished in Armenia for centuries even as our nation struggled for existence and survival. The masterpieces of world-renowned authors have been translated into Armenian and a great number of works by famous Armenian authors have been presented to many nations of the world in various languages. Thanks to translations, the names of Movses Khorenatsi and David Anhaght, Grigor Narekatsi and Nahapet Kuchak, Hovhannes Toumanyan and Avetik Isahakyan, Eghishe Charents and Paruir Sevak, Hovhannes Shiraz and many other distinguished representatives of Armenian culture became known to the world.
Translators' Day, celebrated in October, is a holiday of Armenian education and culture.
Since 1979, Translators' Day has been widely commemorated in Armenia once every three years. The opening ceremony takes place in Oshakan, where Mesrop Mashtots (the creator of the Armenian alphabet) is buried and the monument to the Armenian alphabet has been erected. During this celebration the authors of the best translations are awarded a special prize named after E. Charents.
Thus, in a country where for centuries the art of translation has played an important role in the development of the arts, science and education, this tradition is being carried on. Translators' Day pays tribute to one of the most significant fields of human activity, which helps people of different nations and religions better to understand each other and become acquainted with each other's history and culture.

The photos illustrate the silver binding (1255 A.D.) and the title page (13 - 14th centuries) of manuscripts now kept in Matenadaran (depository) named after Mesrop Mashtots in Yerevan .