rojetex is a software package enabling management of translation projects of all complexity levels. This Translation Management System provides new translation business opportunities both to major translation agencies and independent experts.
With Projetex, client, project, translator, and price-list information is available at a glance, and the embedded word count function facilitates instantaneous invoicing.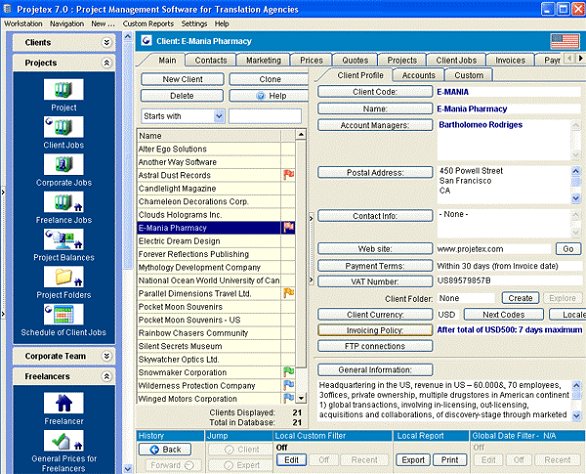 Overview
Projetex reduces the translator's workload and increases efficiency. It provides
maximum optimization of the primary processes of translation activities (automatic file management, comprehensive and customized accounting, automated file storage, project structuring, itemized filters, automatic expert performance evaluation, minimization of human error.
maximum optimization of the secondary processes of translation activities' (accounting, selection of staff, expert evaluation, easy administering, marketing records log, complete documenting)

Installation
System administrators will appreciate the reliable and free database platform: the Firebird SQL relational database. It is installed directly on the user's PC and therefore it is free of security vulnerabilities typical of web-based systems.
Projetex is installed by user's System administrator or remotely by an AIT expert. System requirements are very low because the software uses system resources sparingly:
Operating System: Windows 98 SE or higher
CPU: 300 MHz or higher
Memory: 256 Mb or more
Hard Disc Space: 40 MB

Advantages
Projetex's advantages have been appreciated by translation industry specialists (system administrators, accounting, HR officers and company executives).
Project managers and senior management benefit from the clear flow chart style project structure. This structure effectively represents details of corporate and freelance jobs in accordance with each and every client order.

Company Documents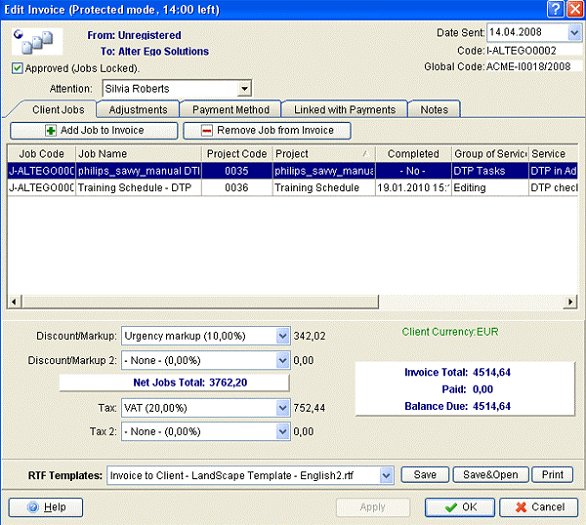 All company documents can be customized with templates and will be generated automatically. Dozens of time-consuming manual operations become unnecessary. Projetex eliminates careless mistakes and human error.
Customization of corporate document processes is available to user. Tasks, orders, invoices and offers are stored as RTF files using fully adjustable templates.

Multiple Currencies
Projetex simplifies and expedites work with overseas clients; the currency support function allows prompt calculation in many different currencies.

Performance Evaluation
The Translation Management System has moved performance evaluation to a new level, providing individual expert performance and translation quality evaluation, thereby identifying the right translator for the right job.
Projetex makes it possible to evaluate the performance of each expert individually, as well as to choose a translator for certain projects taking into consideration the mean value of his/her translation quality.

Security and Backup
Projetex ensures user-friendly and safe operation. Projetex allows simultaneous access of all team members to its database. At the same time, the program provides for individual user rights settings to prevent disclosure of confidential information.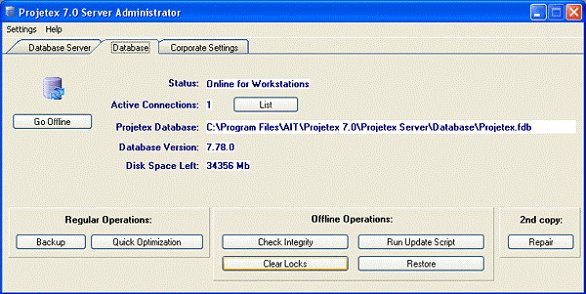 Projetex prevents waste of time and/or of financial resources to address emergency situations that may result not only in loss of client, but may also destroy the reputation of an expert or a company as a whole?
Projetex provides protection against unforeseen situations. The backup function allows storing backup versions of all information and restoring necessary data in case of operating system problems or computer failure.

Jobs Management
The regular staff will appreciate the flexible management of finished jobs: each expert has the opportunity to keep records of all work performed, including the time balance of any individual project.
This feature enables efficient time planning with Job Status, identifying Projects Completed, Due Today, and Past Due.

File Management
Work file management: prompt database navigation through job folders will contribute to each translator's performance efficiency. Files and folders are stored and sorted centrally and their organization structure is supported automatically ("Business folder > "Client" folder > "Job" folder)

Company Archive
It takes the user no more than a couple of seconds to find information on a client, a translation, or a project, even if it is a decade old. The convenient search function by project, translator, price-list, or client with history saves time and aggravation.

More Advantages
Projetex can provide savings up to 48% in both time and resources (based on AIT tests and user reports)
Free technical support within 12 or 24 hours;
Used by 715 translation agencies, some for more than 5 years. There are installations with more than 100 Projetex Workstations.
Here is what András Szalay-Berzeviczy from TranzPress one of the users of Projetex said:
"We introduced Projetex--an ERP especially designed for the translation industry--in 2006, which was a milestone for us in terms of tracking and monitoring our projects. Thanks to Projetex we have been able to record and log all details of our projects relating to our in-house expert team, freelancers, and clients. Projetex now plays a crucial part in our daily work in keeping our administration and project management on track...
After two years of work with Projetex, we can safely recommend it to market players in the localization industry wanting to make workflow more organized, effective and transparent."

About the Developer
AIT--Translation, Localization and Software Development Company-has been developing software for more than 5 years. Projetex, continuously improved and refined, has gained popularity among its users, as confirmed by the fact that Projetex is used by more than 715 satisfied translation agencies. Projetex users include: IBM Deutschland GmbH, Moravia IT, ELOQUIA Fachübersetzung und Marketing GmbH, Seprotec Translation, Guia, Business Translation Services, TranzPress, Palex, Transcom Global, Cronica, s. r. o., Star Information Services & Tools (Romania), Passport ELS, Business Translation Services, AD 3DOORS (LLC), Kalinauskas Sp. z o.o., Locasis, Asian American Language Services

Free Trial
The trial version of Projetex can be downloaded at http://www.TranslationManagementSystem.com.